Rapid Risk Stratification of Septic Adults in Non-Intensive Care Unit Settings
Jeffrey P. Green, M.D.
Dr. Green is Clinical Research Fellow, Department of Emergency Medicine, University of California, Davis School of Medicine, Sacramento, CA.
Within the past 12 months, Dr. Green reports no commercial conflict of interest.
Albert Einstein College of Medicine, CCME staff, and interMDnet staff have nothing to disclose.
Release Date:
02/20/2012
Termination Date:
02/20/2015
Estimated time to complete:
1 hour(s).
Albert Einstein College of Medicine designates this enduring material for a maximum of
1.0 AMA PRA Category 1 Credit(s)™.
Physicians should claim only the credit commensurate with the extent of their participation in the activity.
Albert Einstein College of Medicine is accredited by the Accreditation Council for Continuing Medical Education to provide continuing medical education for physicians.
&nbsp
Learning Objectives
Upon completion of this Cyberounds
®
, you should be able to:
Describe severe sepsis and discuss the importance of rapid and accurate risk stratification and apply it to the care of patients
Discuss currently available clinical risk stratification tools for rapid risk stratification of severe sepsis in non-intensive care unit settings
Describe the physiology of lactate metabolism and its implications for use in sepsis risk stratification
Supplement clinical risk stratification of severe sepsis by application of inflammatory biomarkers.
&nbsp
Severe sepsis is a common, deadly condition, usually caused by an infection (highly suspected or confirmed), which provokes a systemic inflammatory response.(1)(2) The inflammatory response is most commonly defined as the presence of two or more Systemic Inflammatory Response Syndrome (SIRS) Criteria (Table 1). The SIRS criteria are intentionally non-specific so that a large proportion of infected patients can be classified as septic. However, this broad inclusion limits the usefulness of a diagnosis of sepsis in distinguishing a high-risk patient population.

Table 1. Systemic Inflammatory Response Criteria.

Severe sepsis is the leading cause of in-hospital mortality in the U.S.
Epidemiology
Not surprisingly, the SIRS criteria do not predict mortality risk in adults with suspected infection.(1) Severe sepsis, which implies sepsis with objective evidence of end-organ dysfunction, carries a significant short-term mortality risk. Each year in the United States there are approximately 750,000 cases of severe sepsis, resulting in 215,000 deaths.(3) Severe sepsis is the leading cause of in-hospital mortality in the U.S., with an estimated in-hospital mortality risk between 25 and 30%.(3) In the U.S. alone, more than 500,000 adult patients present annually to hospitals with evidence of sepsis and organ dysfunction.(4) Additionally, the volume of patients presenting to hospitals with the sepsis syndrome appears to be increasing, placing an ever-growing burden on clinical providers to rapidly identify and risk stratify these patients.(5)
Recently, novel therapies have shown demonstrable efficacy in the treatment of severe sepsis. However, the benefit of these interventions appears to diminish with any delay in time to initiation, making early risk stratification essential. Early Goal Directed Therapy (EGDT) is a resuscitative protocol that reduces mortality in patients with cardiovascular or metabolic organ dysfunction.(6)(7)(8) Studies also demonstrate an apparent association between any delay in the administration of effective antibiotics and increased mortality risk for patients with severe sepsis.(9)
Why Risk Stratification Is Needed
Accurate risk stratification of severe sepsis is essential for efficient allocation of limited healthcare resources. More than 50% of patients with severe sepsis receive some portion of their care in an intensive care unit (ICU) setting, representing the most common cause of non-surgical ICU admissions in the United States.(3) ICU level care would be impossible to provide for all the patients who present annually to U.S. hospitals with severe sepsis. The burden of treating severe sepsis has contributed to the overcrowding of ICUs nationally and added to the more than $16 billion annual cost of caring for this syndrome in the United States.(3) Furthermore, the majority of cases of severe sepsis are initially identified either in the emergency department (ED) or general medical and surgical wards. Efforts to improve risk stratification of sepsis must acknowledge this reality, and develop instruments that can be utilized in these settings.
As the United States population grays, the incidence of severe sepsis will inevitably increase. Accurate risk assessment techniques could focus limited healthcare resources on high-acuity (i.e., seriously ill) patients most likely to benefit and decrease the performance of invasive procedures on low-risk patients. The purpose of this Cyberounds® review is to describe currently available techniques for rapid clinical risk stratification of severe sepsis in non-ICU settings, available biomarkers to supplement clinical risk assessment tools and the underlying physiology of these biomarkers.
Organ Dysfunction
Organ dysfunction can be defined using varying criteria based on objective clinical evidence. Previously developed definitions for organ dysfunction are less efficacious in rapid risk stratification, particularly in non-ICU settings, due to their requirement for extensive and serial testing. Shapiro et al. formulated a system for defining organ dysfunction that can be rapidly calculated and identifies a subset of septic patients at increased short-term mortality risk (Table 2).(1)

Table 2. Organ Failure Definitions From Routinely Available Clinical Variables.

Patients with severe sepsis range from those with multi-system organ failure, including hemodynamic instability, to those with only mild derangements of individual organ systems. Though a portion of patients with severe sepsis have evidence of significant organ dysfunction and hemodynamic compromise on initial presentation, a large percentage of severe sepsis patients initially demonstrate only mild end-organ derangements. Most initially stable patients will have an uncomplicated clinical course with traditional therapies such as appropriate antibiotics, non-optimized fluid administration and source control. However, a portion of these patients will experience clinical worsening and hemodynamic compromise in spite of traditional therapy.(10)
Clinical Risk Stratification Tools
APACHE
The earliest evidence-based tools for risk stratification of septic patients were developed in the intensive care setting. The Acute Physiology and Chronic Health Evaluation (APACHE), APACHE II, APACHE III, Simplified Acute Physiology Score, Sepsis-Related Organ Failure Assessment, and Mortality Probability Model are all validated for risk assessment of septic patients in the intensive care setting.(11)(12)(13) However, these models are quite comprehensive and rely on variables not typically available early in patient presentation. Furthermore, ICU-developed prognostic tools have generally demonstrated insufficient accuracy when applied to more heterogeneous populations.(14)
MEDS
The Mortality in Emergency Department Sepsis (MEDS) score is an internally and externally validated clinical decision rule for adult emergency department patients with a suspected infection.(15)(16)(17) This risk stratification tool was specifically developed for rapid risk stratification based on routinely available clinical and laboratory variables, making it useful for early risk assessment in heterogeneous populations (Table 3).

Table 3. Mortality in Emergency Department Sepsis Score.(15)

Importantly, the original MEDS cohort was created from patients admitted to the hospital who had a blood culture in the ED.(15) These patients were at relatively low risk of in-hospital mortality (5.3%) compared to the 25-30% in-hospital mortality risk of severe sepsis.(3) Not surprisingly, in validation studies the MEDS score demonstrated poor test characteristics for mortality risk in patients with severe sepsis.(18)(19) At the time of the MEDS score derivation, which was developed from an observational cohort, lactate was not commonly used for risk stratification. However, lactate levels are known to correlate with mortality risk and are an inclusion criterion for EGDT.(6)(20)(21) If MEDS scores were combined with lactate levels or other objective markers of illness severity, we would have a more accurate risk stratification tool for high-risk patients — but this tool has not been developed to date.
REMS and CURB-65
Other risk assessment tools can be rapidly calculated. The Rapid Emergency Medicine (REMS) score, which is a modification of the APACHE II score, correlates with mortality risk in non-surgical ED patients admitted for a suspected infection.(17) The Confusion Urea Nitrogen Respiratory Rate Blood Pressure Age over 65 (CURB-65) scores were developed and validated for risk stratification of patients with community acquired pneumonia. Both the REMS and CURB-65 scoring systems are efficacious for risk stratifying adult patients with a suspected infection.(17) Neither of these scoring systems has been evaluated in a higher risk population of severe sepsis.
SOFA
The Sequential Organ Failure Assessment (SOFA) score may be useful in adult patients with severe sepsis. The SOFA score quantifies the degree of organ dysfunction in ICU patients and was designed for rapid, serial use. The SOFA score predicts prognosis and response to therapy of critically ill patients. Jones et al. recently demonstrated a moderate to good utility for an initial SOFA score in risk stratifying ED patients who were EGDT candidates.(10) For this study, the SOFA scoring system was slightly modified to use SaO2 (oxygen saturation) when PaO2 was not available (Table 4). These two variables correlate well and the modification did not impact the accuracy of the scoring system. Otherwise, the SOFA score was rapidly and accurately obtainable in potentially septic adult patients.

Table 4. Modified Sequential Organ Failure Assessment Score.(10)
MAP, mean arterial pressure; CNS, central nervous system; SaO2, peripheral arterial oxygen saturation. Use PaO2 preferentially. Vasoactive medications administered for at least 1 hour (dopamine and norepinephrine μcg/kg/min).

PIRO demonstrates a significant ability to risk stratify sepsis using available clinical variables.
In the Jones study, the initial SOFA score evidenced moderate ability to predict mortality in EGDT candidates [AUC 0.75 (95%CI 0.68-0.83)], but measuring SOFA scores serially over time improved its prognostic accuracy. Though the SOFA score accuracy was only moderate on initial measurement, the relative simplicity of measurement and the value added benefit of serial measurement makes it a valuable tool for risk stratification of severe sepsis. Again, addition of biomarkers known to correlate with illness severity may make the SOFA score more accurate, but assessments of this combination have not been performed. It should be noted that in the Jones study only patients who were EGDT candidates (demonstrated cardiovascular or metabolic dysfunction) were included. Validation of a single measurement of the SOFA score in patients with organ dysfunction of other systems in non-ICU settings has not been performed.
PIRO
For patients with suspected sepsis, we now have the Predisposition, Infection, Response, Organ (PIRO) Dysfunction Staging System.(22) PIRO attempts to separate the several dimensions of the presentation and inflammatory response of the sepsis syndrome. In both ICU and ED patient populations, this staging system has demonstrated a moderate to good ability to risk stratify sepsis.(23) Though developed as a platform needing further modification with additional validated predictors of patient outcomes, PIRO demonstrates a significant ability to risk stratify sepsis using routinely and rapidly available clinical variables.

Table 5. Predisposition, Infection, Response, Organ dysfunction (PIRO) Staging System.(22)
COPD - chronic obstructive pulmonary disease; BUN - blood urea nitrogen.

These scoring systems thoughtfully combine predictive factors of patient comorbidities, infectious source, evidence of inflammatory response, and markers of organ dysfunction to determine the overall clinical risk for the patient. Furthermore, the PIRO staging system has demonstrated utility in high-risk septic patients with presenting evidence of organ dysfunction, an area where other rapid risk stratification tools have shown limited benefit.(24) Validation of this finding is warranted, but the PIRO staging system may be clinically valuable for the risk stratification of severe sepsis, particularly in non-ICU settings where clinical variable assessment is limited.
Lactate levels have an established association with mortality in septic patients.
Lactate Levels for Risk Stratification of Severe Sepsis
Lactate levels have an established association with mortality in septic patients, and hyperlactatemia is used as an enrollment criterion in EGDT.(6)(20)(21) The association of lactate levels with mortality risk is independent of dysfunction of other organs.(25) Traditionally, arterial lactate levels were preferred for risk stratification, but multiple studies demonstrated that venous lactate levels correlate with mortality risk.(20)(21) Due to the impracticality and potential complication risk of routine arterial puncture of low-risk patients, current guidelines recommend use of serum lactate levels for mortality risk stratification and enrollment in EGDT.(26)
Reserving measurement of lactate levels for those patients with an abnormal anion gap has also fallen out of favor. Evidence exists that anion gap measurement has only moderate test characteristics for prediction of abnormal lactate levels (anion gap >12 mEq/L: sensitivity 80%, LR+ 2.5 to detect lactate ≥4.0 mmol/L).(27) And, given the significant emphasis on timing for severe sepsis treatment, the implicit delay of waiting for serum chemistry results prior to lactate testing should be avoided. There is evidence that lactate levels have a stronger association with mortality risk when associated with concurrent acidosis, but current guidelines recommend aggressive resuscitation for hyperlactatemic patients regardless of blood pH.(28)
Measurement of serial lactate levels appears to increase the accuracy for mortality risk assessment compared to single lactate testing. Patients presenting with severe sepsis have a ~10% lower mortality risk if a 6-hour repeat lactate level is more than 10% below the initial lactate level. Similarly, patients whose lactate level increases by more than 10% over 6 hours have a ~10% higher mortality risk.(29) For this reason, lactate clearance has been incorporated into an alternative protocol for EGDT that replaces Central Venous Oxygen Saturation (SCVO2) measurement with serial lactate measurement.(30) This non-inferiority study found similar results for patients resuscitated using a lactate clearance approach. The same investigators also demonstrated that patients with poor lactate clearance had increased mortality risk even if they had a normal SCVO2, suggesting that the risk associated with poor lactate clearance in sepsis may not be related to decreased oxygen perfusion.(31)
Hyperlactatemia of sepsis may be caused...by increased circulating catecholamine levels.
Hyperlactatemia in sepsis is classically believed to be caused by end-organ hypoperfusion, which leads to anaerobic glycolysis and lactate accumulation.(32) However, recent evidence demonstrates that lactate accumulation associated with systemic infection may not be related to tissue hypoxia.(33)(34) Instead, the hyperlactatemia of sepsis may be caused, at least partially, by increased circulating catecholamine levels. The inflammatory response to a systemic infection results in increased serum levels of epinephrine and other catecholamines, with a subsequent increase in activity of the sodium-potassium ATPase pump (Figure 1).(33)(35) This increased energy requirement overwhelms the ability of mitochondrial oxidative metabolism to produce ATP.(36) Aerobic glycolysis in the cytosol provides the required ATP for the sodium-potassium pump, but leads to increased lactate levels.(36)(37)

Figure 1. Epinephrine Stimulates Lactate Production By Increasing Na+/K+-ATPase Activity With ATP Provided By Aerobic Glycolysis.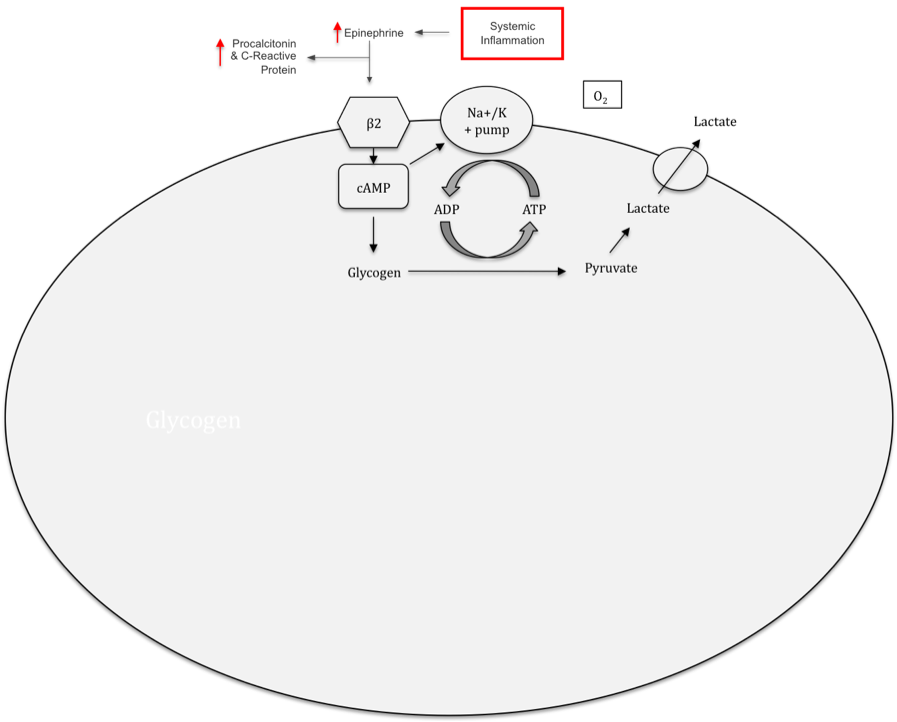 Click image for larger view.

The lactate resulting from this process may be useful as a serum energy transporter during the hypermetabolic state of severe sepsis and may be a component of the compensatory response to systemic inflammation, rather than a byproduct of end-organ hypoperfusion.(38)(39)
Lactate accumulation secondary to elevated catecholamine levels appears to be associated with a significant mortality risk. Levy et al. recently demonstrated, in a cohort of non-shock, non-hyperlactatemic ICU patients with presumed sepsis, that plasma catecholamine levels have a significant association with the development of septic shock and mortality risk (AUC 0.94 ± 0.05).(40) Additionally, patients in this study had intramuscular dialysis catheters placed to measure muscle lactate levels. There is evidence that lactate production in sepsis predominantly originates in muscle tissue.(41)
The Levy study demonstrated that patients with elevated catecholamine levels also had an increased gradient of intramuscular-to-plasma lactate and elevated lactate gradients had a significant correlation with mortality (AUC 0.96 ± 0.03). Apparently, these patients were producing sub-clinical levels of lactate, presumably secondary to increased catecholamine levels, causing hyperlactatemia, septic shock and a high mortality rate.
Prolonged catecholamine elevation has been associated with an increased mortality risk in sepsis in other studies.(42)(43)(44) Catecholamine elevation leads to cardiac, hepatic and metabolic dysfunction and is believed to effect the immunomodulatory response to sepsis. Studies of experimental sepsis have demonstrated that direct inhibitors of sympathetic activity, and thus catecholamine production, decrease mortality risk.(45)(46) Catecholamine levels also strongly correlate with lactate levels in sepsis.(47) Given these findings, one may hypothesize that in some cases the association of lactate levels with mortality in sepsis may simply be a result of lactate's strong association with catecholamine levels. Hyperlactatemia secondary to systemic inflammation should be accompanied by a concomitant elevation of inflammatory biomarkers.
In certain cases, patients with hyperlactatemia have concurrent evidence of poor perfusion. For these patients, lactate levels and mortality risk seem to decrease significantly with rapid, goal-directed resuscitation.(30) In studies of lactate clearance, however, a significant proportion of patients with initial hyperlactatemia did not have improved outcomes or decreases in lactate levels with aggressive volumetric expansion. If non-fluid responsive lactate accumulation in sepsis is a result of increased catecholamine levels, and the catecholamine surge is caused by the inflammatory response to infection, then inflammatory biomarkers should also be elevated in these patients. This group of patients would likely not respond to fluid resuscitation and have a significant short-term mortality risk.
The overall accuracy of lactate levels for mortality in sepsis is only moderate, and patients with severe sepsis and normal lactate levels may continue to have significant mortality risk. This may reflect the potential of multiple physiologic processes contributing to lactate formation in sepsis. If additional inflammatory biomarkers could be measured to distinguish lactate production in a hypermetabolic state from lactate produced due to lack of perfusion, perhaps the association of lactate with mortality risk could be better distinguished. Several inflammatory biomarkers have been investigated for rapid risk stratification in sepsis with varying degrees of established utility.
Interleukin 6
Interleukin-6 (IL-6) is a pleiotropic cytokine produced by both lymphoid and nonlymphoid cells and helps regulate the acute-phase inflammatory response. IL-6 is rapidly induced during acute inflammatory reactions, reaching peak activity levels within two hours of endotoxin injection.(48) Plasma IL-6 levels are strongly correlated with mortality risk in abdominal sepsis and to a lesser extent in generalized sepsis.(49)(50) Persistent IL-6 elevations over time, however, appear to be more predictive of mortality risk than initial measurements, somewhat limiting IL-6's utility in rapid risk stratification. IL-6 levels are not routinely assayable in most clinical laboratories, such that practical applicability is limited at this time. Future studies demonstrating that IL-6 can distinguish high and low-risk sepsis, as well as the underlying etiologic pathogen, may lead to more widespread use.
Procalcitonin
Procalcitonin is a 116–amino acid prohormone of calcitonin. Under normal conditions, this prohormone is produced by C cells of the thyroid gland, cleaved by proteolytic enzymes into calcitonin and secreted into the circulation. During periods of systemic inflammation, such as sepsis, procalcitonin is produced and secreted by extra-thyroidal tissue. Procalcitonin is believed to have a biological role as a mediator of the inflammatory cascade of sepsis and may directly influence the negative effects of the inflammatory cascade.(51) Procalcitonin levels have been demonstrated to correlate with the presence of infection.(52)(53)(54) A recent meta-analysis demonstrated that procalcitonin levels have a global odds ratio of 15.4 for distinguishing infection with abnormal SIRS criteria from non-infected abnormal SIRS (AUC 0.78).(55) The correlation between procalcitonin and infection is so accurate that procalcitonin is considered to be efficacious for antibiotic stewardship (PRORATA trial).(56) In this randomized controlled trial, providers appropriately stopped antibiotics earlier when they had knowledge of the procalcitonin levels as opposed to when they did not know these levels.
Procalcitonin levels are also known to be more elevated in septic patients when they have concurrent evidence of organ dysfunction.(57) Furthermore, severity of illness scores seem to correlate with procalcitonin levels, though the degree of correlation has varied in different trials.(58)(59)(60)(61) Procalcitonin generally outperforms other inflammatory biomarkers, including C-reactive protein, in predicting the presence and severity of infection.(62)(63)
Though the majority of these studies were performed in ICU populations, evidence exists that procalcitonin levels correlate with the presence and severity of infection in heterogeneous adult patient populations.(62)(64)(65)(66)(67) Procalcitonin levels have been shown to be useful for mortality risk stratification of septic patients both in the ICU and ED.(68)(69)(70) Procalcitonin levels predict mortality risk in septic shock.(70)(71) Further research is needed to determine which populations would benefit from routine procalcitonin testing and the specific associated mortality risk, but clearly procalcitonin demonstrates promise as an adjunct to clinical risk stratification tools.
Combining Inflammatory Biomarkers With Lactate Levels for Mortality Risk Stratification
There is evidence that using inflammatory biomarkers for mortality risk stratification in conjunction with lactate levels increases their accuracy. Viallon et al. found that combining procalcitonin and lactate levels allowed for improved mortality risk stratification of septic adult patients than either biomarker used independently.(72) Phua et al. demonstrated that for patients in septic shock in the ICU, when procalcitonin and lactate levels both increased over time patient prognosis was poor, but when either biomarker increased in isolation, short-term mortality risk was no greater than for patients with no biomarker increase.(25)
Green et al. demonstrated that among adult ED patients admitted for a suspected infection and a serum lactate ≥4.0 mmol/L, patients were five times more likely to die if they also had an elevated C-Reactive Protein (CRP) level.(73) In this study, patients with a lactate ≥4.0 mmol/L and a normal CRP were no more likely to die within 28 days than patients with a normal lactate (Figure 2). Studies have demonstrated that CRP has only moderate ability to predict mortality risk in sepsis when measured in isolation.(74)(75) When combined with lactate levels the two biomarkers appear to have significantly greater predictive capacity.

Figure 2. Twenty-eight-day Mortality of Adult Septic Patients Stratified By Serum Lactate and CRP Level (mg/dL). Bars=95% C.I.(73)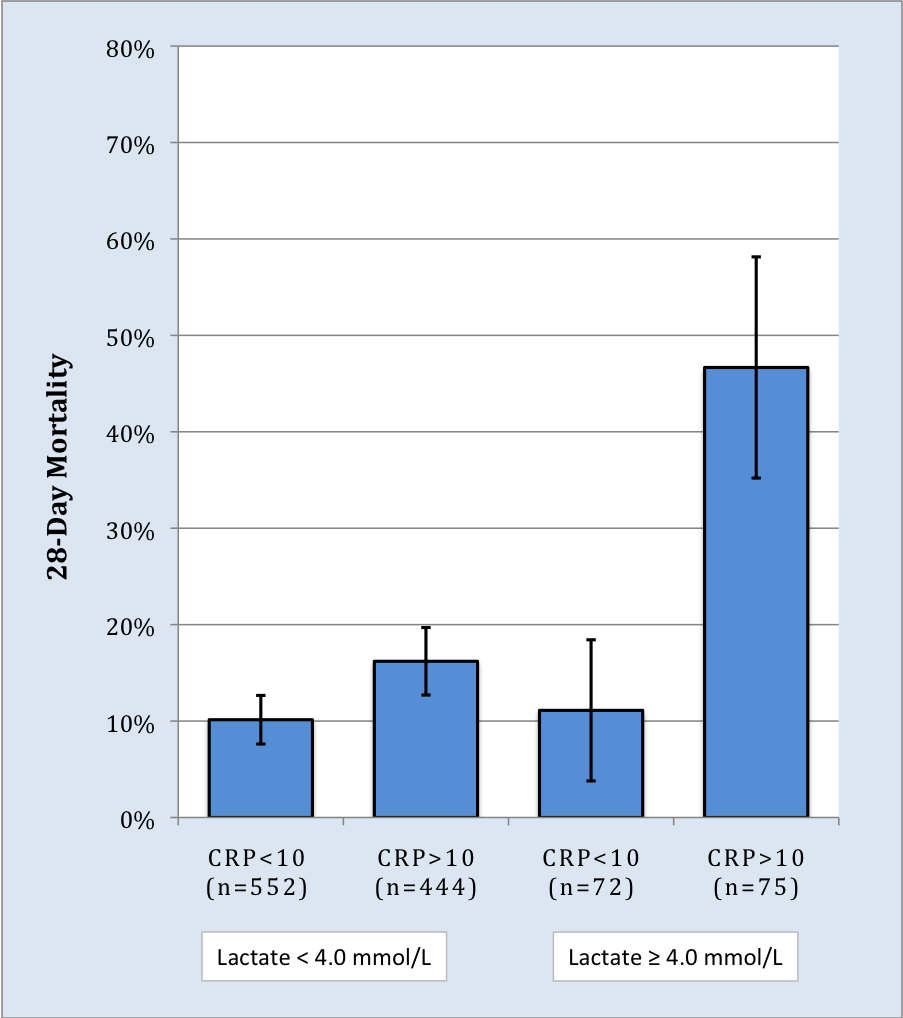 Click image for larger view.

These findings suggest that lactate's association with mortality may be dependent on simultaneous abnormalities of the inflammatory cascade. When perfusion-induced lactate abnormalities are rapidly corrected with volumetric resuscitation and serial lactate measurements decrease, mortality risk drops substantially. However, in non-fluid responsive hyperlactatemia mortality is substantial (>60%).(31) These patients may have lactate accumulation due to the catecholamine surge of sepsis and require interventions focused on mitigating this response.
Summary
Severe sepsis is a common, deadly condition, but recent studies have demonstrated that rapid identification and treatment can decrease mortality risk for these patients. Several clinical risk stratification instruments have been developed that take advantage of commonly used clinical variables to rapidly risk assess patients. While the MEDS score has been validated for clinical risk stratification in septic patients with minimal immediate evidence of organ dysfunction, it is less efficacious in patients with objective evidence of organ dysfunction. The SOFA score has utility for rapid risk stratification in sepsis, and even greater efficacy with serial measurement to assess the response to therapy and need for further interventions. The PIRO staging system has utility for risk stratification in sepsis and has potential as a rapid risk stratification tool in high-risk patients.
Serum lactate levels have a demonstrated association with mortality risk in sepsis, even when measured as a serum sample. Serial lactate measurement increases the accuracy of lactate measurement for mortality risk and has been used as marker of adequate resuscitation. Lactate accumulation in sepsis may be caused by end-organ hypoperfusion, but increasing evidence exists that lactate accumulation in sepsis is related largely to the hypermetabolic state of sepsis. IL-6 and procalcitonin have a significant association with mortality risk in sepsis, even early in the clinical presentation. Inflammatory biomarkers, including procalcitonin and CRP, may be more predictive of mortality risk when assessed in combination with lactate levels, possibly due to the underlying physiology of lactate in sepsis.