Wendy M. Novicoff, Ph.D.
, and
Khaled J. Saleh, M.D., M.Sc., M.H.C.M.
Dr. Novicoff is Assistant Professor, Departments of Public Health Sciences and Orthopaedic Surgery, University of Virginia School of Medicine, Charlottesville, VA, and Dr. Saleh is Professor and Chair, Division of Orthopaedic & Rehabilitation Surgery, Southern Illinois University School of Medicine, Springfield, IL.
Within the past 12 months, Dr. Novicoff was a consultant for Creative Healthcare, Inc., and Dr. Saleh reports no commercial conflicts of interest related to the content of this activity.
Albert Einstein College of Medicine, CCME staff and interMDnet staff have nothing to disclose.
Release Date:
07/27/2010
Termination Date:
07/27/2013
Estimated time to complete:
1 hour(s).
Albert Einstein College of Medicine – Montefiore Medical Center designates this enduring material activity for a maximum of
1.0 AMA PRA Category 1 Credit(s)™.
Physicians should claim only the credit commensurate with the extent of their participation in the activity.
In support of improving patient care, this activity has been planned and implemented by Albert Einstein College of Medicine-Montefiore Medical Center and InterMDnet. Albert Einstein College of Medicine – Montefiore Medical Center is jointly accredited by the Accreditation Council for Continuing Medical Education (ACCME), the Accreditation Council for Pharmacy Education (ACPE), and the American Nurses Credentialing Center (ANCC), to provide continuing education for the healthcare team.
&nbsp
Learning Objectives
Upon completion of this Cyberounds
®
, you should be able to:
Discuss the definitions of Six Sigma and its complementary methodology of Lean
Identify the benefits of applying these methodologies to healthcare settings
Apply the basic approaches to problem-solving using these methodologies.
&nbsp
"The greatest danger is not that we aim too high and miss it but that we aim too low and reach it."


- Michelangelo



"The definition of insanity is doing the same thing over and over again and expecting different results."


- Albert Einstein
Introduction
For many centuries, skilled work was done by craftsmen who were responsible for inspecting their products and ensuring good quality for their customers. Starting in the late 19th century, people such as Frederick Taylor, an American engineer, saw the value of improving efficiency and quality of products coming out of factories and instituted methods for formal inspection of work products. Walter Shewhart advanced the field of quality improvement by introducing control charts (a topic that will be covered later) to help investigate common cause and special cause variation. While quality control methods were widely used in the United States through World War II, they were largely abandoned in the post-war economy.(10)(11)(12)
Quality improvement after World War II
At the same time that quality was becoming less important in American industry, the concept of quality improvement was finding new life in post-war Japan.(12) Several important concepts and tools, including aspects of the Toyota Production System and the related methodology of Lean, which seeks to eliminate waste in operations by implementation of the concepts of pull, one-piece flow and Just-in-Time production, were championed during these post-war years. As the quality of Japanese products surpassed American products, visionaries such as Deming and Juran went to Japan to learn from these new quality masters.(2)(3)
American industry soon embraced quality management and quality improvement as necessary attributes to compete in the global marketplace. Starting in the 1980s, movements such as Total Quality Management led to increased visibility for quality not only in traditional manufacturing arenas but also in other industries.(2)(3) In 1987, Congress passed legislation creating the Malcolm Baldrige National Quality Award (www.nist.gov/baldrige/) to reward businesses making noteworthy strides in improving quality and other important business principles.
The desire for more detailed information about quality of care has led directly to the rise of report cards.
This emphasis on quality soon reached the healthcare industry, leading to the formation of several organizations dedicated to improving the quality of healthcare including the Institute for Healthcare Improvement (IHI) headed by Don Berwick (www.ihi.org), who was recently appointed to administer the Centers for Medicare and Medicaid Services. The desire for more detailed information about quality of care has led directly to the rise of report cards and other reporting mechanisms such as pay for performance, showing both the favorable and unfavorable aspects of healthcare outcomes.
Choosing Improvement as a Central Organizational Philosophy
No matter what the improvement methods or philosophy used, the key point or goal of improvement is to enhance quality and reduce costs, while still satisfying customer needs.(3) It requires an intense commitment on the part of senior management to continue to support improvement activities through training, monitoring and continued improvement activities. This commitment represents a new way of management that values the input of all levels of employees and acknowledges the need for consistent, continued and visible support for improvement activities.(1)
In addition to the need for support for these efforts, all employees must embrace some basic principles of quality and performance improvement. Good quality and productive work can't be accomplished without well-defined processes and metrics that are monitored over time. It is also impossible to have good quality without understanding the needs of customers, both internal and external. Finally, it is vital for everyone to remember that the main source of quality defects lies within the process itself or the system that is being used, not with the people who are involved in the process. It is far too easy to blame particular people or departments for poor quality, when it is often the system that is fundamentally flawed.(8)(9)
When we discuss how to approach quality improvement, what are some other basic principles? We must understand that poor quality is costly in terms of rework, dealing with customer complaints, loss of market share and many other reasons. We must realize that understanding variability is the key to improving a process or a system so that goods or services produced meet the needs of customers. We must also understand that we can't improve everything at once, so we should concentrate on the processes or systems that are most vital to the core business objectives, and we must make decisions that are based on data that have been analyzed using sound scientific and statistical thinking. We have previously mentioned that employee involvement is critical but it bears repeating. If a new structure is put into place with the goal of improving a process, the employees must embrace these changes, or the entire improvement process will fail.
But what does this mean? Several studies have shown that a large portion of the work done is not of value, that is, work that does not contribute to either the bottom line or to customer satisfaction. In some industries, almost half of the time is spent doing these "non-value-added" activities, leading to enormous expense.(4)(5)(7)
In defining the costs associated with quality, we can see major categories emerge. How much time and money is spent adding features that customers have not requested? What are the methods used to prevent problems before they occur? How might they be different (or more value-added) from the costs of detecting and correcting problems after a product has been manufactured? Why do we have entire departments simply to handle customer complaints, returns and recalls?
It probably isn't possible to eliminate every non-value-added step in any process but an organization needs to strive to minimize the amount of work spent "cleaning up" so that it can concentrate on being more efficient and satisfying its customers.(6)
Choosing Lean Six Sigma
There have been many "movements" in quality over the years including Total Quality Management, Clinical Quality Improvement and Value Stream Management. All of these methodologies have been successfully implemented in many organizations, and all of them, including Lean Six Sigma, have similar goals of reducing defects, maximizing customer satisfaction and improving bottom line financial performance. While this Cyberounds® will concentrate on Lean Six Sigma, it is vital to understand that these concepts are part of a larger "toolbox," and can be integrated with other tools or methodologies based on the needs of the particular improvement project.
It's impossible to have good quality without understanding the needs of customers, both internal and external.
In very broad terms, Six Sigma is a statistically based approach to process improvement. Lean is a methodology that focuses on eliminating waste – doing more with less – and has its origins in the Toyota Production System that was introduced in Japan.(12) Lean Six Sigma combines the toolbox from the separate methodologies of Lean and Six Sigma to provide a hybrid approach to process improvement. Since many of the tools in each methodology are similar or overlap, this combined approach is common.
Why Six Sigma in Healthcare?
Many people long for the "good old days" of healthcare when rising costs were a nuisance but few were denied coverage. Clearly, those days are long gone, as costs continue to increase, health insurers are restricting the flow of revenue to healthcare providers, liability insurers are raising premiums charged to those providers, and healthcare providers are necessarily cutting back on expenses to remain viable businesses. On top of all of these challenges, accreditation and government agencies are demanding greater-than-ever levels of accountability for performance. This certainly is not a scenario where business-as-usual will work. Many healthcare institutions – not just hospitals but also skilled nursing care facilities, outpatient clinics and surgery centers, laboratories, etc. – have been using Six Sigma successfully to help lower costs, increase productivity, reduce errors and improve both patient and employee satisfaction.
Six Sigma won't replace medical expertise. It won't replace good management. It won't make people more compassionate, more honest or smarter. But Six Sigma can help compassionate, honest, intelligent people do their work better. It can help organizations function effectively and efficiently.
What is Six Sigma?
The term Six Sigma has several different meanings. Three popular interpretations of the term Six Sigma are:
A statistical term: From a statistical standpoint, Six Sigma means that there are 3.4 defects or less for every one million times a process is operated. This concept of Six Sigma addresses how close to perfection a process can function.
Another way to describe Six Sigma from a statistical perspective is to draw a picture. Any process that can be observed and measured has some basic characteristics. The mean (or average) of the process is shown as X with a bar over it (X-bar). The standard deviation is a measure of the variation of the data around the mean, and the specification limits are goals that help to determine if the process is performing as desired. Figure 1 shows how a typical process might look. If you can "fit" six (6) standard deviations between the mean and the specification limit, you can determine that you have a "Six Sigma" process. While this doesn't happen very often, it is definitely a goal to strive for.

Figure 1. The Concept of "Six Sigma" Using the Normal Curve.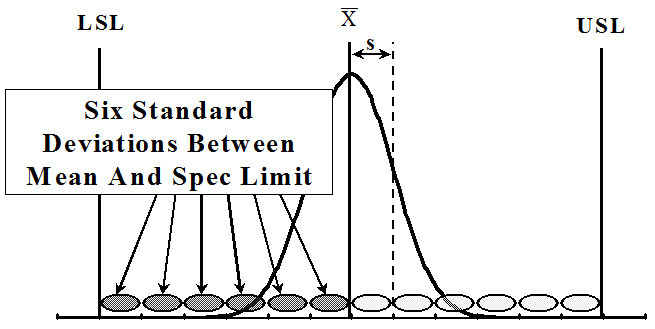 Click image for full size.

A "Six Sigma" process is one where six standard deviations can fit between the mean and the customer specification limit.

LSL = lower specification limit; USL = upper specification limit

A problem-solving approach: In looking at Six Sigma as a problem-solving approach, how much improvement is reasonable to expect if the ultimate goal of 3.4 parts per million cannot be achieved? It is reasonable to expect a 50% to 90% reduction in defects IF the proper process improvement method is utilized correctly.
Six Sigma won't replace medical expertise, but it can help organizations function effectively and efficiently.
Many times we cannot drive our process to even come close to 3.4 parts per million no matter how hard an individual, a team or even a company as a whole works; therefore, the goal becomes one that is focused on modifying the process in order to achieve the greatest improvement level possible. This is where the second definition of Six Sigma comes in, that is, Six Sigma as a methodology for solving process problems.
The Six Sigma process improvement method is divided into five separate steps: Define, Measure, Analyze, Improve and Control and is commonly referred to by the acronym DMAIC. Each phase of the DMAIC process employs a number of analytical tools which, in turn, guide a project team to ultimately reach the desired improvement goal for the identified process.
As a management philosophy: In order for a process to perform better, it must operate differently from before. However, change is not always easy or welcome. Some people are comfortable with the way the process has operated in the past and are not willing to implement changes, despite the fact that the appropriate changes will allow for marked improvement in the services provided.
In order to create an environment where change is accepted as well as applied, an organization's leadership must intervene. It is vital for leaders of any organization to communicate not only the fact that changes are necessary but also the reasons why changes are needed. Upper management within an organization needs to clearly demonstrate their support of the necessary changes in order to ensure that these positive changes occur and are sustained.
Using Six Sigma
To define some terms: the major goal of a Six Sigma project is called the "Y" of the project. Any project Y is influenced by many factors, also known as "X" variables. Therefore, any process can be defined as Y equaling the sum of all of the X variables. Six Sigma methodology allows a project team to narrow down the overall list of X variables to focus on the ones that are most important – also known as the "vital few" – so improvement efforts can be streamlined and make the most impact possible.
Another important concept is defining what are the CTQ (Critical-to-Quality) characteristics for the project. This emphasis on identifying customers and their needs is a major difference between Six Sigma and other statistically-based methodologies such as Statistical Process Control (SPC). In SPC, control limits are set by the actual process measurements (Voice of the Process), while in Six Sigma the customers tell you what their expectations for service delivery are (Voice of the Customer). These specific expectations are the CTQs that must be met to satisfy the customers. The needs and expectations can't be assumed; the project team must get information directly from customers, or they risk fixing part of the process that doesn't really affect customer satisfaction.

Figure 2. The Six Sigma Equation: Transforming Input Variables into Meaningful Outputs.

Click image for full size.

Selecting an Approach to Six Sigma Projects
There are two major approaches in Six Sigma – DMAIC and DMADV. DMAIC stands for Define, Measure, Analyze, Improve, and Control, and is used to improve existing processes:
The other approach is DMADV, which stands for the five phases of Design for Six Sigma (DFSS) – Define, Measure, Analyze, Design and Verify:
The first three phases are exactly the same as in DMAIC. This is definitely done on purpose in order to insure that the stakeholders define, measure and analyze the project without too many preconceived notions about whether they will be improving an existing process or designing a new one. Let the data and the team decide which path to take:
Upper management needs to clearly demonstrate their support of the necessary changes.

Figure 3. Choosing a Six Sigma Path and Related Tools.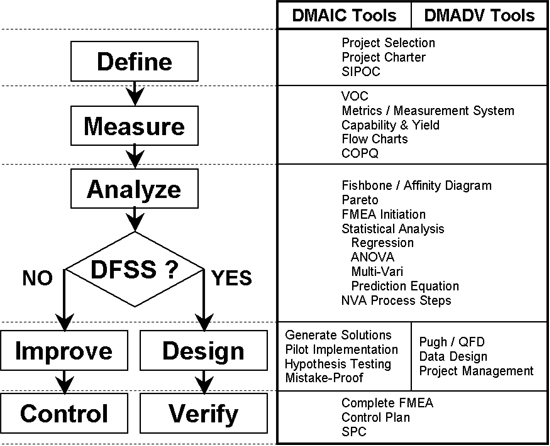 Click image for full size.

SIPOC = Suppliers, Inputs, Process, Outputs, Customers (a tool used to determine project scope); VOC = Voice of the Customer; COPQ = Cost of Poor Quality; FMEA = Failure Modes and Effects Analysis (a tool used to design errors out of new processes); QFD = Quality Function Deployment (a tool used to quantify and prioritize customer needs and requirements); SPC = Statistical Process Control; DFSS = Design for Six Sigma (also known as DMADV)

There is a vast toolbox available for Six Sigma projects. The project team reduces the scope of the project by focusing more and more closely on the vital few factors that impact process performance. Figure 4 helps convey some of the tools used to make it happen and shows how the project starts at a broad level and is narrowed (funneled) down throughout the project work to the ultimate solution. Six Sigma methodology allows a project team to narrow down the overall list of X variables to focus on the ones that are most important – also known as the "vital few" – so improvement efforts can be streamlined and make the most impact possible.

Figure 4. The Six Sigma Funnel: Narrowing Down the Multiple Variables into the Vital Few Improvements.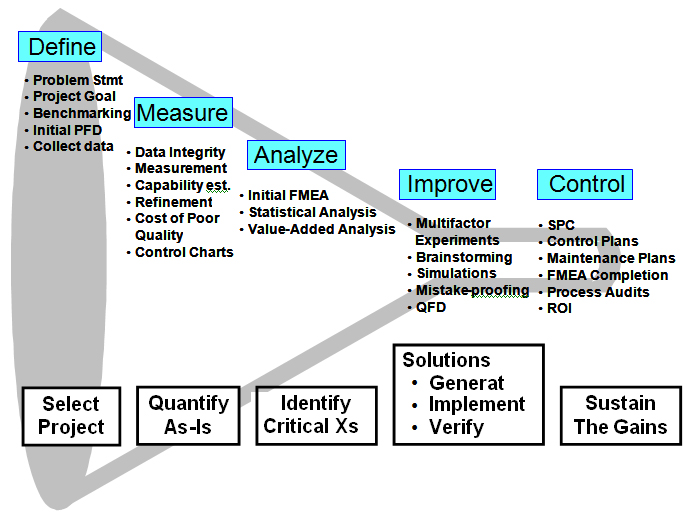 Click image for full size.

ROI = return on investment

How Has Six Sigma Been Used in Healthcare?
Six Sigma was introduced in healthcare settings in the late 1990s, and its use has grown exponentially since then. While there have been varying rates of success compared to other industries in terms of tangible dollars saved, the impact of Six Sigma programs on improving patient safety and streamlining processes is impressive. By combining the traditional tools of Six Sigma with Lean approaches, an organization can tap into a comprehensive methodology aimed at giving the best chance of successfully improving a process. While Six Sigma focuses on defects and quality of a process, Lean focuses on speed and removal of waste. It is very difficult to completely separate the two, especially in complicated processes. Normally, a project team would first look for obvious signs of waste – stoppages in the process, extra movements or handoffs, stockpiled inventory, etc. – and remove as much of them as possible. Once that has been accomplished, the more intense data collection and analysis needed for Six Sigma improvement can be undertaken.
Below is only a short list of projects that have been completed in healthcare settings. It is important to note that many of the projects involve administrative areas and might not have direct impact on patient care but the patient is not the only important customer in healthcare organizations:
A Project Example
Many hospitals have problems with ensuring that patients who are admitted for observation are either discharged within a specified time (usually 24 hours) or moved to inpatient status. In one hospital, a team was convened to examine this process due to an increase of denials for payment for patients who had not been properly classified.
Project Overview
The team gathered background data including the current policies for handling observation patients and time allowances for consults and testing services. The average time from a patient entering the system to a decision about discharge was 25 hours, 24 minutes (the range was 8 hours to 3 days), which meant that the process was not meeting the required limit of having decisions within 24 hours. A defect was defined as any patient who wasn't discharged or transferred to inpatient status within 24 hours. The hospital finance department determined that they did not get full payment for over 100 patients in the prior fiscal year.
There is a vast toolbox available for Six Sigma projects.
Some other team observations:
There was a lack of communication between the emergency department, the admitting physician, the hospital bed center, the observation unit, testing areas and the consulting physicians which led to significant delays in treatment and in decisions
The current standard operating procedures for turn-around-times did not meet the needs of the hospital and their observation patients:

A 24-hour response time was allowed for consults, radiology, and cardio-pulmonary testing
A 6-hour turn-around-time for lab testing was allowed.

The power to control the patient's flow was completely in the hands of the attending physician
Physicians were still compensated even if 24-hour mark was exceeded.
Using Data to Make Decisions
Focused data collection was carried out to understand how long each step of the process was taking, where bottlenecks were occurring, and where policies and procedures either didn't address care for this group of patients or weren't designed to meet the 24-hour limit.
The vital few X's were determined from this analysis. A lack of communication between departments (and protocols for handling that communication) was the largest reason for delays. Improvements included:
Instituting a paging protocol that outlined who was supposed to call whom at what interval
Making a policy that all observation orders needed to be placed within 20 minutes of an admission decision
Making a policy that all observation patients must be seen within six (6) hours of the admission decision or the patient would be transferred to a hospitalist
Developing order templates that could be used in the emergency department during the initial observation order process
Allowing only one consult for observation patients.
After the improvements were made, the team went back and collected data to see what impact they'd had. The new mean admission-to-discharge time was 15 hours, 27 minutes, for a savings of more than 10 hours on average. The number of defects was reduced by 75%.
Conclusion
Six Sigma is a valuable methodology that can be integrated with existing performance improvement efforts at most healthcare institutions. The data-driven approach can help find the true root causes of problems so that they can be fixed or eliminated altogether. The additional customer focus also makes using Six Sigma a powerful strategic tool.