Huai Y. Cheng, M.D.
Dr. Cheng is Geriatric Fellow, Division of Geriatric Medicine, Saint Louis University, Health Sciences Center, Saint Louis, MO. Dr. Cheng reports no commercial conflict of interest.
Release Date:
11/10/2000
Termination Date:
11/10/2003
Estimated time to complete:
1 hour(s).
Albert Einstein College of Medicine designates this enduring material for a maximum of
1.0 AMA PRA Category 1 Credit(s)™.
Physicians should claim only the credit commensurate with the extent of their participation in the activity.
Albert Einstein College of Medicine is accredited by the Accreditation Council for Continuing Medical Education to provide continuing medical education for physicians.
&nbsp
Learning Objectives
Upon completion of this Cyberounds
®
, you should be able to:
Determine whether a patient has a true vertigo
Diagnose and treat benign paroxysmal positional vertigo and Meniere's disease
Describe the canalith repositioning procedure
List the vestibular suppressants and their side effects.
&nbsp
Case Report
Mr. Jones, a 76-year-old Caucasian man, was referred to our clinic because of recurrent vertigo for three years and worsening for the last two to three months. In 1997, he experienced, for the first time, "things in the house spinning" with nausea for less one minute. He felt fine if he stayed in bed and did not move. He did not have slurred speech, weakness of extremities or other neurological deficit. Computed tomography of the head was not impressive at that time. He was then treated as Meniere's syndrome with Diazide®, one tablet daily and 25 mg of meclizine three times a day.
The patient was stable until the last few months when he had multiple admissions due to recurrent attacks of the same symptoms but with more severe nausea and vomiting. Mr. Jones was treated with intravenous fluid supplement in the hospital. Between acute attacks, he did not feel dizziness and felt fine, but now is always afraid that he will have another attack. More and more frustrated, Mr. Jones thinks that the diagnosis of Meniere's syndrome is not correct and that meclizine is not working any more.
The patient's father had similar symptoms and was diagnosed as "Meniere's syndrome". No other family members have similar symptoms. He is not a smoker and does not drink. No history of ear infection, stroke, migraine, depression, angina, and anxiety is recalled. He has a history of hypertension, "syncope " twice (in 1991 and 1996), polycythermia and allergic rhinitis. He had a right eye cataract that was removed without any complication several years ago. During the last few years, the patient has had frequent nasal congestion and phlebotomy every five weeks (last one was a few months earlier) for his polycythermia. His hearing in both ears is impaired and he uses hearing aids. Recently, he was found to have an elevated blood glucose.
The patient has been taking Dilacor XR® 240 mg, Diazide® 37.5/25 one tablet, aspirin 325 mg daily and meclizine 25 mg three times a day. In addition, he used Atrovent® nasal spray daily. Claritin® and doxycycline were used as needed for sinus congestion. Albuterol inhalor was used as needed for shortness of breath due to his emphysema.
On physical examination, the patient's blood pressure was 150/92 mm Hg (sitting) and 140/90 mm Hg (standing). Pulse was regular at 80 beat per minute. Respiratory rate was 18 per minute. Nasal mucusa showed mild pallor without any discharge. Hearing aids were functioning. Vision in both eyes was 20/40. No neck bruits and goiter were present. Lungs were clear. Heart rate was regular with no heart murmur. Abdomen and extremities examination were normal.
On neurological examination, he had positive Barany rotation and Hallpike-Dix (Nylen-Barany) maneuver. Tinetti gait evaluation T score was 12/12. Folstein Mini Mental Status was 30/30. Geriatric depression scale was 2/30. CBC before last phlebotomy showed that hemoglobin was 17.8 and hematocrit was 51.5. Chemistry was in the normal range. EKG showed normal sinus rhythm with left ventricular hypertrophy. CXR revealed mild emphysema.
Q. Which one of the following is most likely diagnosis in this patient?
Meniere's disease
Migraine
Vertebrobasilar insufficiency
Benign paroxysmal positional vertigo
Transient ischemic attack
A. The most likely diagnosis is D, benign paroxysmal positional vertigo.
Q. In order to have a definite diagnosis for this patient which work-up needs to be done?
ENT or neurology or psychiatrist consult
MRI of the head with MRA and EEG
Carotid Doppler and 24-hour Holter
Electronystagmogram, audiometry, brainstem auditory evoked response
None at this time
A. The answer is E, nothing at this time needs to be done.
What is Vertigo?
Vertigo is a common symptom in clinical practice -- a definite rotational sensation in which the patient feels that either he/she or the environment is rotating.(1) It is defined in Webster's dictionary as a disturbance "in which the external world seems to revolve around the individual or in which the individual seems to revolve in space".(2) It often begins instantaneously, is episodic and is accompanied by nausea, vomiting and a staggering gait. When milder, it may appear to be a rocking sensation or light-headedness.(1)
In contrast, dizziness is a nonspecific term that describes a sensation of altered orientation in space. It is an immeasurable and subjective sensation.(3) Dizziness is usually classified into four types.(1) Type 1 dizziness is vertigo. Type 2 dizziness is presyncope, a sensation of impending faint or loss of consciousness and often beginning with vision and roaring in the ears. It is caused by inadequate supply of blood and nutrients to the entire brain. Type 3 dizziness is disequilibrium with impaired balance and gait in the absence of any abnormal head sensation. It is often due to impaired motor control. It is referred to as "dizziness in the feet" by patients. Type 4 dizziness is vague light-headedness, heavy-headedness or wooziness. Type 4 dizziness is a category used to include less well defined symptoms that are not reliably identified as type 1, 2 or 3, such as multisensory dizziness and psychogenic disorder.
Benign Paroxysmal Positional Vertigo
Benign paroxysmal positional vertigo (BPPV) is one of the most common types of vertigo with many causes. One popularly accepted pathogenesis is free-floating debris (calcium carbonate crystals) in the endolymph of the posterior semicircular canal. Patients present with vertigo or lightheadedness, often accompanied with nausea, vomiting, sweating and pallor. It usually has a sudden onset and lasts less than 30 seconds.
Vertigo is provoked or induced by position changes, such as turning over in bed or getting in and out of bed. Patients often have a positive Hallpike-Dix test or maneuver (sometimes erroneously called the Barany or Nylen-Barany test). The mixed torsional and vertical nystagmus with the upper pole of the eye beating toward the dependent ear and the vertical nystagmus beating toward the forehead is considered positive. However, such a positive response will be reduced after repeated demonstration of the Hallpike-Dix maneuver. BPPV is often self-limited, but some patients have unpredictable remissions and recurrences.
Meniere's Syndrome
There are many different types of vertigo. One of them, Meniere's syndrome, first described in 1861 by Prosper Meniere, always needs to be differentiated.(4),(5),(6) Meniere described a syndrome characterized by deafness, tinnitus and episodic vertigo.(9),(11) It predominantly affects Caucasians and its etiology remains unknown. Patients have a sensation of fullness or pressure in the ear with decreased hearing in one ear, soon followed by vertigo, which reaches a maximum intensity over the next few hours (varied from 20 minutes to 24 hours). It is frequently associated with nausea and sometimes vomiting. Vestibular nystagmus is always present but tinnitus is variable. Hearing impairment fluctuates and complete hearing loss gradually occurs. Once permanent hearing loss is present, vertigo diminishes and finally disappears.
Three stages are clinically observed. In stage I, patients have vertigo with vomiting, nausea, pallor, sweating and an aura of fullness or pressure in the ear or side of head. In stage II, patients have established hearing loss with fluctuation. In stage III, patients develop progressive hearing loss from unilateral to bilateral. Meanwhile, vertigo diminishes and then disappears once hearing loss is permanent.
Differential Diagnosis
Many other causes for vertigo should be also differentiated. They are either of peripheral or central origin(7) shown Table 1 and Table 2.
Table 1. Common Causes of Vertigo for Peripheral and Central Origin.
Peripheral Origin
Central Origin

Benign positional vertigo
Meniere's syndrome
Ototoxin, e.g., aminoglycosides
Trauma
Metabolic disorders, e.g., uremia
Acute alcoholic intoxication
Autoimmune inner ear diseases

Brain trauma
Vascular disease, e.g., vertebrobasilar insufficiency
Migraine
Tumor of brain
Neurological complication of ear infection, e.g., brain abscess
Table 2. Comparison of Central vs. Peripheral Origin Vertigo.
| | | |
| --- | --- | --- |
| | Central | Peripheral |
| Hearing loss | Rare | Common |
| Nausea, vomiting, sweating and pallor | Moderate | More pronounced |
| Imbalance or ataxia | Common and more severe | Rare |
| Oscillopsia | Severe | Mild |
| Compensation of vertigo | Slow | Rapid |
| Neurological symptoms | Common | Rare |
| Worsened by | | Rapid head movement,position changes, loud noises |
| Predisposing factors | | Ototoxic drugs, diabetes mellitus, ear surgery, etc. |
They have different clinical courses(7) (Table 3) and time course (Table 4).(8)
Table 3. Prolonged Spontaneous vs. Recurrent Vertigo.
Prolonged spontaneous
Recurrent

Infarction of labyrinth, brainstem and cerebellum
Vestibular neuritis
Labyrinthine concussion
Otomastoiditis

Benign position vertigo
Meniere's syndrome
Vertebrobasilar insufficiency
Migraine
Autoimmune inner-ear disease
Perilymp fistula
Table 4. The Time Course of Vertigo.
Lasting for a day or longer
For hours or minutes
For seconds

Vestibular neuritis
Ischemia of vertebrobasilar artery
Multiple sclerosis

Meniere's syndrome
Ischemia of vertebrobasilar artery
Partial seizure
Perilymph fistula

Benign positional vertigo
Psychogenic vertigo is often seen in specialized dizziness clinics.(10) A detailed history, physical examination and appropriate laboratory tests are all needed to diagnose vertigo and to determine which type of vertigo is present.
Most vertigo can be defined by using the extensive questions designed by Dr. Halmagyi(3) summarized in Table 5. Bedside examination is also very helpful (Table 6).
Table 5. Questions for Patients with Vertigo.
Whether the patient has vertigo?

Do you feel spinning or rotation of yourself, world, or environment or surroundings?
Do you lose your consciousness?
Do you feel nausea or vomit?
What are you doing when you have such unusual feeling?

What is causing vertigo?

What are accompanied symptoms?
What precipitates vertigo?
What is your medical and head surgical history?
What medications are you taking?
How long does vertigo last?
How frequently do you have vertigo?
Table 6. Special Bedside Examinations for Vertigo.
Spontaneous nystagmus
Barany rotation (head-shaking nystagmus)
Hallpike-Dix (Nylen-Barany) maneuver
Valsalva-induced nystagmus
Hyperventilation-induced nystagmus
Romberg test
Pastpointing test
Few of these tests are routinely used for all patients in daily practice. There are also many laboratory tests available for vertigo if needed (Table 7).(3)
Table 7. Special Laboratory Tests for Vertigo.
Imaging of the head
Electronystagmography (ENG) and rotational testing
Audiological function
Vestibular test: vestibular evoked potentials etc
It should always be kept in mind that history is most important. By history, physical examination and some necessary laboratory tests, you are able to answer several key questions listed in Table 8 and to proceed to appropriate management.
Table 8. Important Questions for Vertigo.
Is it vertigo or something else?
Is vertigo due to urgent causes or non-urgent causes?
Is vertigo a vestibular system problem or general medical cause?
Is vertigo central or peripheral origin?
Is it benign position vertigo or Meniere's syndrome?
When are the vestibular suppressants needed?
Are there any correctable underlying diseases?
Does it need ENT or neurology or surgery consult?
Is it a psychogenic vertigo?
Treatment of BPPV
The canalith repositioning procedure is the widely accepted treatment for BPPV.(12) This bedside maneuver, for the left ear, is demonstrated in Figure 1.
Figure 1. Partical Repositioning: Left Ear.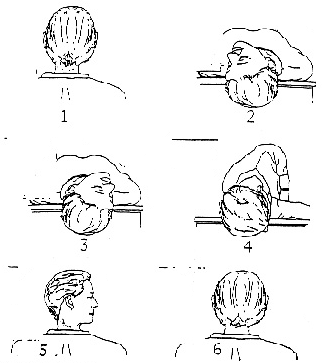 Instructions:
1 and 2. Lay on bed with head towards the left. Lay still after dizziness stops for at least 2 minutes.
3. Slowly (over 2-3 minutes) rotate your head from the left to the right.
4. Roll onto right shoulder and right hip so that you are on your side with your chin pointed slightly toward the floor.
5 and 6. Tuck your chin to your chest and slowly sit up, keeping your chin tucked.
After particle repositioning, do not stoop forward or put your head completely back (including lying down) for 48 hours.
The theory behind BPPV is that the free-floating debris in posterior canal cause vertigo. By serially changing the patient's head and body position with this maneuver, these debris are expected to move into the vestibule of the vestibular labyrinth, where they, presumably, adhere and thus no longer cause vertigo upon movement of the head.(6) The maneuver is repeated until symptoms disappear.
Figure 2 demonstrates the maneuver for the right ear.
Figure 2. Particle Repositioning: Right Ear.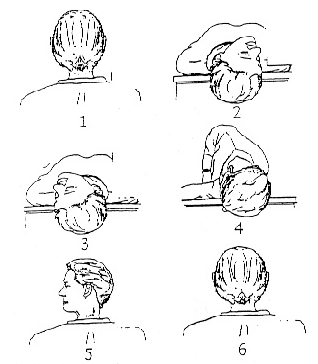 Instructions:
1 and 2. Lay on bed with head towards the right. Lay still after dizziness stops for at least 2 minutes.
3. Slowly (over 2-3 minutes) rotate your head from the right to the left.
4. Roll onto left shoulder and left hip so that you are on your side with your chin pointed slightly toward the floor.
5 and 6. Tuck your chin to your chest and slowly sit up, keeping your chin tucked.
After particle repositioning, do not stoop forward or put your head completely back (including lying down) for 48 hours.
It is recommended that patients be kept upright for 24-48 hours after treatment to reduce the likelihood of debris reaccumulating in the posterior semicircular canal. The technique's effectiveness was recently demonstrated again by a randomized controlled trial done by Froehling et al of the Mayo Clinic in 2000.(12) Because the maneuver is straightforward, it is possible to teach the technique to some patients and their families. However, patients with severe neck disease, high-grade carotid stenosis and unstable heart diseases should be excluded.
Many doctors also prescribe the vestibular suppressants listed in Table 9.(13)
Table 9. Vestibular Suppressants.
Drugs
Suggested geriatric dosage
Comments

First generation of antihistamines
Ethanolamines: Diphenhydramine (Benadryl®, etc.)

PO: 25 mg bid or tid; Available without prescription, more than 20 brand
IM/IV: 10-50 mg Q2-4h

Available without prescription, more than 20 brand names. Also antiemetic. Side effects: excessive sedation, significant antichlinergic, and dizziness etc.
Precaution in glaucoma, peptic ulcer, and benign prostate hypertrophy, etc.

Piperazine dervivatives: Meclizine (Antivert®, etc.)
PO: 25-100mg/day in divided doses
Available without prescription, many brand names. Also antiemetic. Effective on vertigo due to vestibular diseases. Fewer side effects, especially less anticholinergic. Precaution in constipation and urinary retention, etc.
Phenothiazine: Promethazine (Phenergan®, etc.)

PO: 25 mg q6h
Supp: 50 mg q12h
IM: 25 mg q4-6h e

Many brand names. Also antiemetic. Side effects: marked sedation, significant anticholinergic, extrapyramidal syndrome and dizziness, etc. Precaution in cardiovascular diseases and history seizure, etc.
Anticholinergic: Scopolamine
Transderm Scop Patch (1.5 mg/disc) 1 q3 days
Antimuscarinic effect. Side effects: urinary retention, dizziness, increased risk for confusion and days hallucination, etc. Precaution in cardiovascular diseases, and benign prostatic hypertrophy
Butyrophenone: Droperidol (Inapsine®)
Antiemetic, antipsychotic and neuroleptic agent. Side effects: dizziness, sedation and extrpyramidal syndrome. Precaution in liver or kidney diseases
Benodiazepines: Lorazepam, etc.
Probably not recommended in elderly due to their serious side effects
* Very few of the vestibular suppressants have been tested in the elderly patients by randomized.
Because of unwanted side effects, such as sedation, lethargy and worsening balance, their routine use is not recommended. Moreover, the suppressants should not be used for brief attacks. Among the elderly, who often have multiple medical problems and polypharmacy, these are even more serious concerns, especially since few of these vestibular suppressants have been tested in elderly patients in randomized clinical trials.
It should be kept in mind that suppressants do not reduce the frequency of recurrent attacks of vertigo. In addition, the adaptation of the central nervous system to a peripheral vestibular abnormality may be delayed by prolonged use of those medications, though these medications may reduce the intensity of symptoms. Some experts suggest that these medications can be given, as needed, if treatable causes have been investigated or for other indications, including temporary or chronic use recommended by experts in Table 10.
Table 10. Indications for the Vestibular Suppressants.
Temporary use
Chronic use

Severe nausea and vomiting
Longer attacks, e.g., hours

Frequent attacks, e.g., daily
Meclizine (Antivert®, Bonine®, etc.) is commonly prescribed because it has fewer side effects and has been used for many years. Surgery is needed for rare patients with severe, intractable symptoms that are unresponsive to the canalith repositioning procedure.
Treating Meniere's
The treatment for Meniere's disease is often empirical and not as effective as that for BPPV. The clinical course cannot be modified by current treatment. The acute attack is treated with the vestibular suppressants and maintenance treatment with dietary salt restriction and diuretics. Experts recommend that 1 g sodium per day should be tried minimally for two to three months. If a good response is seen, salt intake can be resumed gradually with close monitoring of signs and symptoms.
Diuretics, such as 50 mg of Diazide® once a day or 250 mg of acetazolamide once or twice a day, provide additional benefit to some patients. Alcohol, coffee, chocolate and certain foods with high sugar or salt content should be avoided. Vasodilators, histamine analogue (betahistine), cinnarizine, propranolol and corticosteroids, though less widely accepted, have also been prescribed. Ablative treatment by aminoglycosides is limited because of unacceptable side effects such as ataxia. Surgery is indicated for certain patients. The treatment for other types of vertigo is dependent on underlined diseases.
Management of Our Patient
Our patient, we believe, suffers from benign position vertigo, given his typical episode of vertigo with a positive Hallpike-Dix test. Meniere's syndrome is less likely because he had an episode of vertigo after hearing loss. The additional episodes of vertigo were probably secondary to the recent onset of allergic rhinitis, sinusitis and the use of doxycycline. Chronic polycythemia with frequent phlebotomy, together with Diazide® use, may be a contributor because of the resultant high viscosity and consequent poor microcirculation. Orthostatic hypotension contributes less in our case because we noted only a 10 mm Hg SBP drop from sitting to standing position.
As there is no effective prophylaxis, prevention of a vertigo attack remains a clinical challenge and patients may become, etc.) frustrated. Patients should be informed that benign position vertigo is often self-limited. Medications should be reviewed -- any ototic and vestibular toxic medication should be avoided. In our patient, Doxycycline should not be used for any infection. It is obviously important to treat any upper respiratory infection, especially acute sinusitis, as soon as possible. We think that the patient may take meclizine 25 mg three times a day for a short period because of recurrent severe attacks of vertigo.
Because our patient also has polycythemia, we suggested that Diazide® be discontinued and aspirin continued. Hypertension and diabetes mellitus need to be controlled, regular phlebotomy done to maintain normal hemoglobin and hematocrit and COPD monitored for hypoxia. Hearing aid function needs to be checked regularly. In addition, our patient and his family were trained to do the canalith repositioning procedure in preparing for acute attack of vertigo.
Previously, one of our patients with refractory vertigo was successfully treated with Robinol Fort® 2 mg PO twice a day for acute attack. The mechanism is unclear. Robinol Fort® is a rarely used medication, though it may be worthwhile to try it for difficulty cases like ours. If all the above fail, a repeated imaging study (MRI) and intensive ENT work up are recommended. And, surgery is another consideration.
Summary
Vertigo is a rotational sensation and is one type of dizziness. Common causes of vertigo, such as benign paroxysmal positional vertigo and Meniere's disease, can be diagnosed by obtaining a good history and physical examination without the need for complicated and expensive laboratory tests. The treatment for benign paroxysmal positional vertigo, the canalith repositioning procedure, is easy to perform and families can be trained to do it. Vestibular suppressants should be used cautiously.